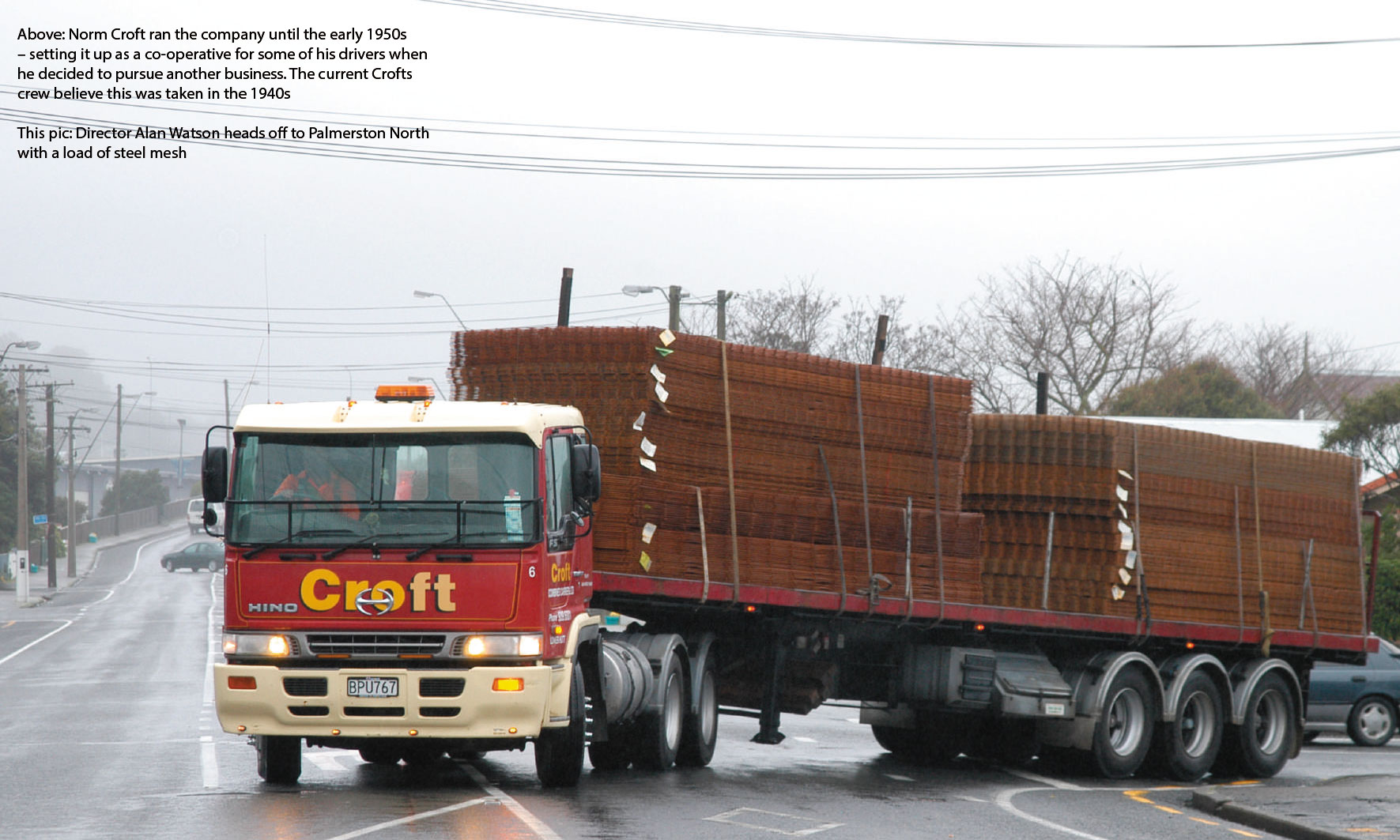 The concept of a group of owner/drivers sharing ownership of a transport company might have suited the 1950s, but can it work in a modern setting? Wellington's Croft Combined Carriers proves that it can.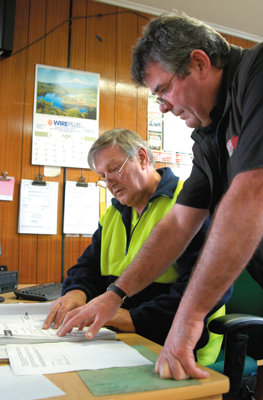 VISIT THE HEADQUARTERS OF CROFT COMBINED CARRIERS for the first time and it's guaranteed: You won't be bowled over by the slick corporate presentation.
Because there isn't any! No flash atrium, no plush visitor area with framed mission statement on the wall…no elegantly bored receptionist.
Instead…an unprepossessing site in industrial Seaview, Wellington…which looks every bit a classic old-school transport operation. There's a wide variety of freight stacked in the confines of the central building and truck parking space is at a premium in the adjoining yard.
The nerve-center of the business – the dispatch office – is downstairs in the main building, adjoining a drive-through lane, with the admin office and smoko room above, accessed via a steep wooden stairway.
Talk to the people who work here though and you'll uncover a fierce pride in doing a job well, in maintaining client relationships built up over the years – on the back of a reliable delivery of service and in being prepared to tackle the challenges of unusual or awkward jobs that other companies might shy away from.
So far, so predictable: Lots of transport companies achieve consistently well in reliability and customer service.
Talk to the people who work here though and you'll uncover a fierce pride in doing a job well, in maintaining client relationships built up over the years
But the Croft people have a rare (if not unique) ingredient that it believes makes these goals easier to achieve – the Combined part of the company name a vital clue to what that is: Croft believes that these days it's alone in the New Zealand transport industry in being a true co-operative  – with eight of its director/shareholders actively driving. The 19-unit fleet is rounded out by an equal number of owner/drivers and three paid company drivers.
For over half a century, while the transport industry has seethed with mergers and takeovers, Croft Combined Carriers has stayed true to the co-operative model of ownership. Along the way, the company has honed its skills at servicing niche markets – to the point where it's long been a leading regional provider of steel transport, truck-mounted crane support of the construction industry and shifting over-dimension loads….
Yet without losing the flexibility and attitude to handle everything from daily trans-metro parcel runs to unusual one-off jobs.
The original company was NP Croft, owned by Norm Croft, who'd started up as a carrier in the Seaview area in 1929 with a single horse and cart. In the early 1950s he wanted to get out of the transport industry and move into the then-new field of manufacturing fiberglass filler material for building construction. However, he didn't want to leave his staff with nothing more to look forward to than absorption into a bigger company – so, in
1954, he proposed the concept of a co-operative , sold equal shares in the operation to several of the drivers and renamed it Croft Combined Carriers.
From that day to this the operating concept has changed little. There is no hierarchy of entitlement to jobs – the owner/drivers with the firm are treated the same as the directors in terms of job allocations and earning levels are constantly monitored to ensure parity.
During the 1970s and 1980s, Crofts relied on a small number of big clients, chief among them BOC Gases and roofing manufacturer Dimond. Several of the operation's trucks were painted in client company colours and dedicated to those particular contracts.
Under longtime general manager Les Prescott (in the job from 1985 to 2008), this reliance on a small number of major clients was gradually changed. The customer base was broadened and the fleet equipped with a variety of equipment to give it the flexibility to handle a wide range of transport jobs.
Though a significant part of Croft's activity still involves carting construction steel, the company also handles most other building construction materials, runs several crane trucks, operates a general freight service in the Hutt and wider Wellington areas, offers bulk storage, Customs and forwarding facilities…and has extensive experience as a specialist in over-dimension loads.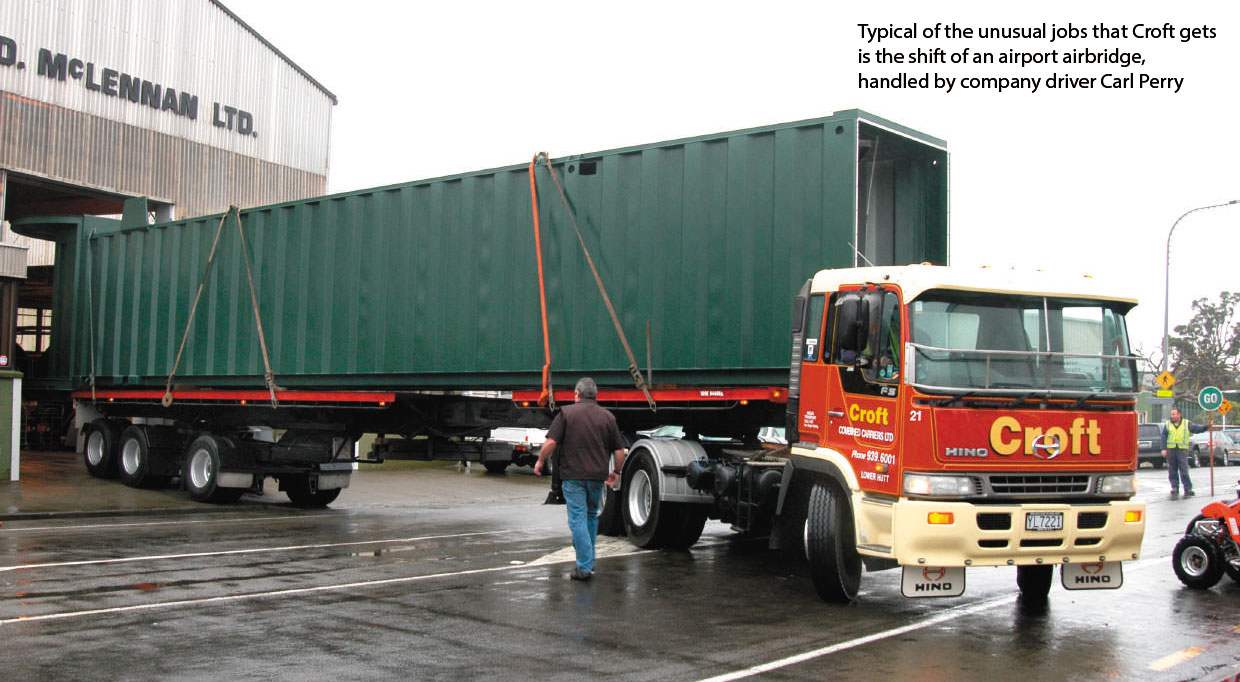 Chris Carter has been the manager for around two years, since Les Prescott's retirement. Chris was previously in dispatch for around 18 years, having started with the company in 1989.
At that time, Croft's primary client was BOC – with around nine trucks (one in Napier, three in Palmerston North, four in Wellington and one in the Wairarapa) dedicated to that contract. The core fleet in Seaview comprised five trucks, including one dedicated to carting Dimond products. Because the BOC and Dimond trucks were painted in the client colours, explains Chris, the actual size of the Croft operation was hidden: "Our image as a stand-alone fleet was virtually non-existent," he says. Understandably….since these two contracts accounted for 90% of the company's turnover.
Over the next 10 years Les worked to reduce reliance on them – to the point where, in 2000, when BOC changed its operation and parted company with Croft, the contract had dropped to less than 20% of total earnings.
Offsetting the drop in income from the major contracts was a shift into general freight cartage. It has proved to be a good move, with turnover increasing steadily during the past 20 years and the majority of the work coming from longterm clients…though the general downturn in the construction industry over the past year has naturally had an impact.
Another boost to the period of expansion was the dissolution in 1989 of Ryans Carriers, the other big co-op style company in the Wellington area: "Times were hard at the time and the fact that they went allowed us to pick up quite a lot of their work and leverage our growth," says Chris.
Les Prescott says that Ryans and Croft were two of the very few transport companies in NZ to follow the co-operative model: "Another unusual characteristic of our approach is that the individual director or owner/driver is relieved of a lot of the administrative work. The company pays all the bills – fuel, tyres, road user charges, maintenance and the like – which are then debited to the driver's payment.
"We pay our bills right up, every month, which means we continue to get the best service and deals. And because we cover our owner/drivers, they can take advantage of our good reputation."
Chris cites an example of this reputation in action: "One day I drove into the local Truck Stops branch with one of our old D-Series Fords, which was banging and coughing and barely running. There was also a guy there with a brand-new Kenworth T904 waiting for some work to be done…but they took me ahead of him. When he complained, he was told: 'Their account is current – yours isn't.'"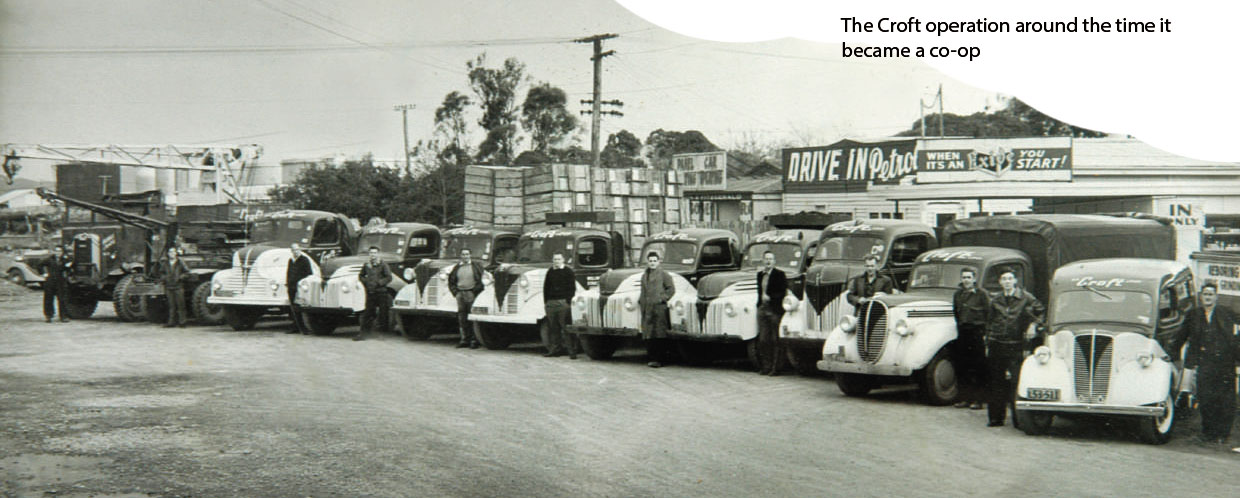 The influence of the company on its owner/drivers, plus its buying power, has resulted in a high level of commonality of truck brands
Without being totally dictatorial, the company significantly influences the question of what trucks its drivers buy. Les explains: "As you know, owner/drivers often like to have the biggest, flashest trucks on the road…which also swallow quite a lot of money in upkeep and depreciation. There's also the temptation to splash out on personal items when they get the monthly payment for a contract, because it seems like such a lot of money. Then, when it comes time to pay the bills, there isn't enough there. Here, everything is paid upfront. What the man gets, he takes home.
"We look after our drivers too. If one has a big, unexpected debt – like a major engine rebuild – we can cover it and let him pay it back over time. "In terms of this type of support, no distinction is drawn between the directors and the owner/drivers. Everybody is treated the same.
The same applies with the allocation of jobs." There was a time when the directors felt they had seniority. For the past 25 years Les and Chris have put effort into ensuring fairness, balancing the job allocations against driver earnings.
When equipping themselves with new trucks, owner/drivers are not allowed to over-buy, says Chris: "We know what truck and
configuration will work for a particular job. You can't expect to pay $200,000 for a truck and get the same return when the previous guy was using a $50,000 truck."
Hire-purchase commitments on trucks are also monitored to ensure that a driver's income flow is not swamped by the monthly outgoing.
The influence of the company on its owner/drivers, plus its buying power, has resulted in a high level of commonality of truck brands. For several years, Hino has been the one favoured, Chris explaining that Crofts has had such a good run from the make that it seems silly to change.
Les adds that the largely urban nature of the work makes investment in high-end North American or European brands pointless: "Our trucks, with a couple of exceptions, would do barely 65,000km a year. Compare this with doubleshifted linehaul units, which could be doing 350,000km a year.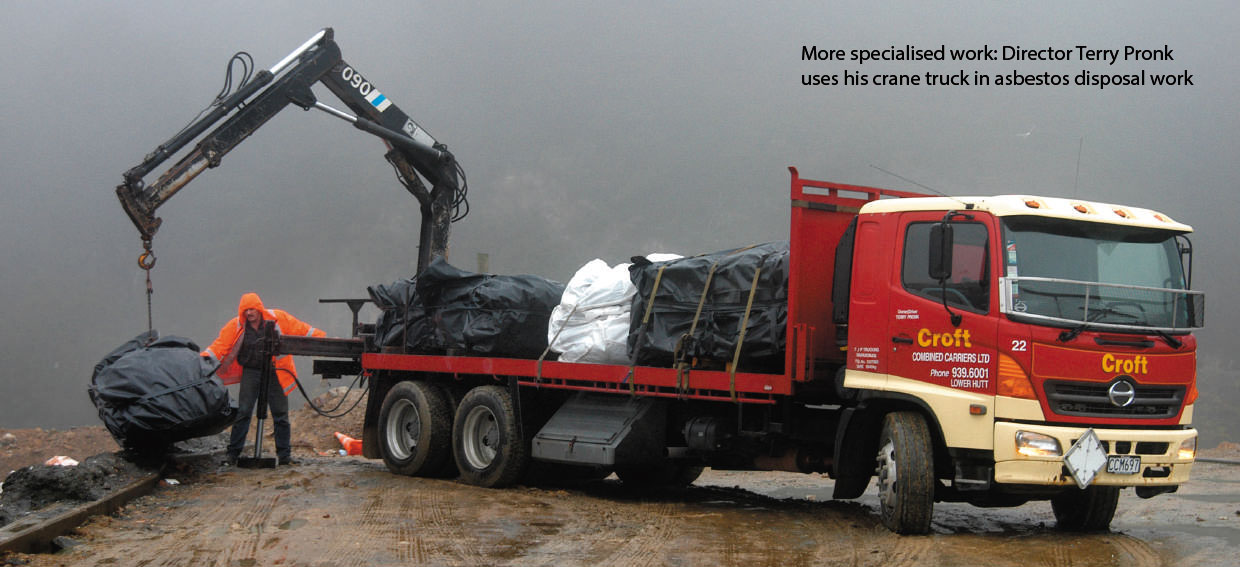 "At our sort of mileage, you've got a good 10 years' economic life from a brand-new truck, which should be able to be paid off within five. That gives the owner five years' freehold, during which he'll be able to save for the next one."
Well-maintained secondhand trucks with up to 500,000km up also come into the equation, both men say.
The company's expansion over the past couple of decades has been based largely on seeing an opportunity and taking it – catering for the work with a company-owned vehicle and salaried driver. When the contract or area of work has been established to the point where it's capable of supporting an owner/operator, often the truck's been sold to a suitable candidate.
The number of employed drivers varies from two to five.
Currently there are three, one of them a previous owner/driver on the verge of retirement.
Croft has had only two moves during its history, staying loyal to the Lower Hutt industrial area that has provided the bulk of its work. The original location, in what has been renamed Croft Grove, was followed by a home in Port Road and its current location in Barnes Street – all within a couple of kilometers.
Because of the specialised nature of a lot of Croft's cargo, the trucks can often be found ranging the length of the country. Construction steel and roofing metal call for specialised handling techniques and trucks – as do items like railway track switch modules…over 18 metres long and requiring over-length trombone trailers.
Over the years the company has established very much a 'can-do' reputation for awkward loads needing to be carted to odd places… at short notice. Typical of this are the Telecom relay stations that often call for an overnight trip to be on-site ready for a chopper to lift them off at dawn.
Long experience with the pitfalls for over-dimension loads in the Hutt Valley, with its high number of over-bridges and the like, has seen the company often consulted by other firms planning to move big loads through the area.
Over-length loads are regular work – recent jobs for the trombone trailer including a 22-metre airport airbridge that had to be shifted between fabrication and painting sites in the Hutt.
Very little container work is handled…and then generally only as a service to longterm clients. The same applies to cargo being stored at Barnes Street.
With the building and construction industry accounting for a high proportion of the company's work – beginning with reinforcing steel, then progressing through gib, fittings, materials and onto the roof cladding – the current downturn in that sector has had an impact, but Les Prescott is philosophical: "We've been around so long that we've seen the cycles come and go – we know that no matter how tough things are for a while, they will bounce back.
"If you treat your workers right, even when times are hard, they're going to stay with you – and the company is going to benefit in the long run. They know when they start here they can progress through to running their own business as a shareholder."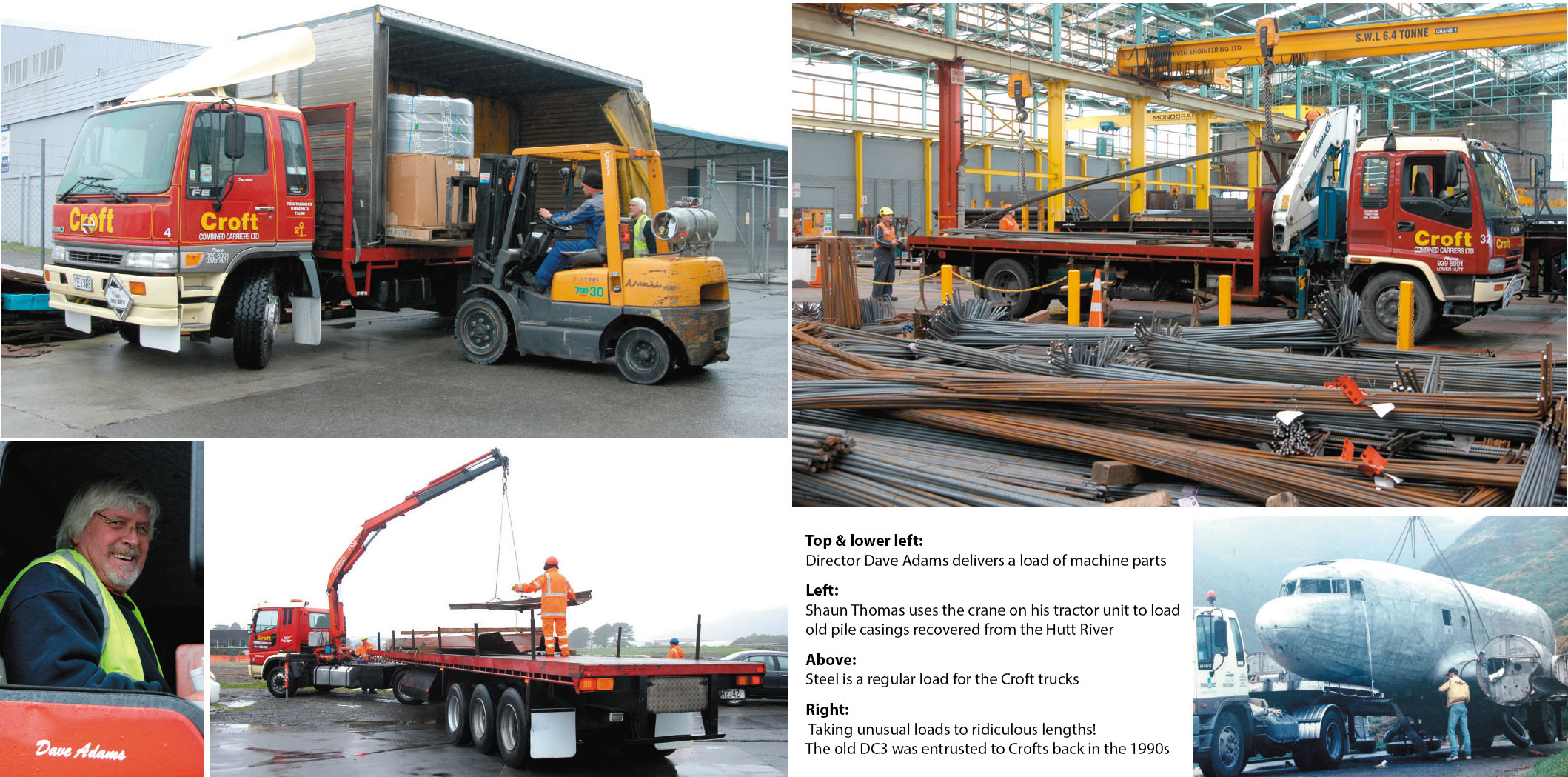 Chris Carter agrees: "They've come in, they see how the company operates and they know what can be done. We've had a young fellow come through as a company driver – the first graduate from the ITO training in Wellington.
"He wasn't here long before we could see his ambition and we told him that before long he'd be out driving the big, flash stuff on linehaul, but that he'd come back. Well, he is working linehaul now, but he's told some of our guys he'll be back when he gets a chance – to set up as an owner/driver."
Adds Les: "Our drivers are 20-year and 30-year men for the most part. They work here until they retire. One of the guys from another transport company around here calls us 'The Geriatric Carriers – but they get it right.' "
Chris believes that this desire to get it right first time is at the heart of Croft's DNA: "We've had situations where rival companies have run into trouble with a job and they ask us to help out. They know that's the last they'll hear of it until our invoice arrives.
"I think our main point of difference is the fact that our guys will take on whatever comes up next in the job list, whereas with a bigger firm, with company drivers, it's easy for them to look at a job and say 'Oh that's too hard,' put it back on the list and do something else.
"Our guys are good like that. If we know there's an ugly job coming up we'll put them in a car and go and have a look at it so they know what to expect and have an idea of how to handle it, before turning up in the truck."
He also knows the drivers are the key to satisfied customers: "Because the owner/drivers have an investment in what they're doing, they're our best sales reps. The client gets a guy who knows all about the job and his vehicle.
"Having your own fleet colours is also one of the best advertisements you can get. People see the trucks out and about. Sure, there's the cost of the paint job versus a client paying for it, but it's nothing compared with the benefit in terms of image.
"Our relationships with clients are great. We've been around for what seems like forever – and so have many of our clients. We've had some who've told us that they've been approached by rival companies promising all sorts of things, but they've knocked them back, saying: 'We're getting excellent service from Crofts, so why should we shift?'
"Though we're primarily based on the Wellington metro area, we're tending to get more work out of area…and that's based on reliability more than the lowest rates. People have been let-down before with what look like great deals, but when they want the truck it might not be available and they have to wait.
"With many of the big transport companies now becoming more freight forwarders, the metro area has lost a lot of the smaller classic transport companies, who used to simply pick up and deliver cargo – nothing more. In part that has been the secret of our ongoing survival."

The fleet currently includes seven crane trucks – four with front-mounted units, two rear and one 40-footer with the crane mounted on the tractor unit
A wide range of configurations for the trucks enables the company to cover the greatest variety of loads. The fleet currently includes seven crane trucks – four with front-mounted units, two rear and one 40-footer with the crane mounted on the tractor unit. Capacities range from two to five tonnes.
All the front-mount crane trucks are 4x2s. Of the rear mounts, one is a 6x4, the other an 8x4, while the tractor unit is a 4x2. "The versatility and different configurations of our gear allows us to cover pretty much anything that has to be done by a Hiab-style truck," says Chris.
"Some companies have standardised their crane layouts, which makes sense if they're doing the same job in volume, over and over. But we see our strength as being able to turn our hands to virtually anything."
From a driver's perspective, advancement through the company follows a fairly simple principle, he explains: "It becomes a matter of availability and time. If a shareholder was going to leave, we'd look at the other owner/drivers in the line and see who wanted to come on board.
" Has any thought been given to changing the model? "No, in the time that I've been here there's been no thought at all in that direction. I guess a key to it all is that the owner/drivers are treated exactly the same as the directors.
"Naturally, the shareholders gain whatever profit is there at the end of the year, but the owner/drivers know that they'll be given a completely fair allocation of work.
"On top of that, company drivers can see the opportunity to themselves become an owner/driver. It's something to aspire to.
"Two of our directors, Shaun Adams and Henk Van Duin, actually started as company drivers on the freight van and have progressed through as the opportunities came up. A few years ago we were so busy we took Shaun inside to help out with dispatch. But he was a bit bored – wanted something more. So he went out and did some linehaul with other companies. However, he'd keep in touch with the guys here and when the Dimond truck came up for sale he came back as an owner/driver…and has since bought-in as a director."
The company also takes in WelTech cadets for work experience. One of them, Cody Turley, is now a company driver.
Office manager Amanda Barr shares the admin duties with Chris (whose background in driving and dispatch means he can also cover those areas in an emergency). She's been with the company 11 years and had come from a background in transport admin – though she had been out of the workforce for several years: "I saw the position at a job centre at the Hutt and came down. I was a bit scared at the beginning, being the only female, but the boys have been great."
Amanda laughs as she explains that the basic nature of the office is actually a significant improvement on what preceded it: "We've come a long way in the past year or so. A local company was closing down, so we bought their furniture. What we've got now is luxurious compared with before. The place might look crappy, but the people inside are lovely!"
The still rather down-home look of the office is not matched by the support systems, which include a recently-installed Quantum software package, she adds. With it, the task of monitoring the earnings and costs of the various trucks is made much simpler, and enhances the robust and transparent reporting system essential to the balanced running of a co-operative.
Dispatcher Malcolm Fitzgerald is the nerve center of the Crofts operation, working off a digital map on his monitor showing the location of the trucks – all Navman Wireless-equipped. He says the busiest time is in the morning, as the canopy five-tonners on the quasi-regular parcel runs around town (out as far as Porirua) load up. Where possible, the routes are timed and plotted to run generally counter to the peak traffic flows. Seaview, he reckons, is an excellent area as a base for city transport.
The trucks don't have tail-lifts: "We thought about it at one point," says Malcolm, "but the call we get for that sort of work is minimal – and with the canopy trucks a tail-lift would limit their capacity quite a bit. "Nor do we sweat too much on backloads. If a regular client has some nontime-sensitive cargo that fits a particular job, that's great, but otherwise it's a matter of matching the trucks to the loads as efficiently as we can."
The company only works on Saturdays and after-hours when a particular load calls for it, he says: "But because the boys are all owner/drivers it's not difficult to get them to put their hands up for these sorts of jobs."
So that's Croft Combined Carriers – on the face of it, just another metro transport operator running a fleet of not-all-that-new mid-weight Japanese trucks…
And based on a business model that seems at odds with the conventional wisdom of corporate success in an era of takeovers, mergers, joint-ventures and increasingly-centralised ownership.
However, half a century of steady growth, a stable of happy customers and a reputation for reliability and innovation suggest that what might seem an old-fashioned way of running a company still has positive resonance in a modern age.